Summary in english:
This time we are offering translations of some Uchiyama Aki's stories.
Chapter one of legendary perverted boy's comic, so called "diaper manga" Andro Trio by Uchiyama-sensei.
Andro Trio was originally published in Weekly Shōnen Champion, a popular young boy's comics magazine, but in the nineties it was classed as a "harmful comic" by the Tokyo Metropolitan Government, so the reprint of 1993 bears the sinfully yellow mark of "Seijin Comikku" aka Adult Comic.
Andro Trio is a humouristic gag-comic focusing on sexual innuendo. It tells about the adventures of Tsukasa, a 10-years old schoolgirl, mysterious panty-obsessed mad scientist "senpai" and his younger apprentice.
Although it's called "diaper manga" by the author, the first part is more about panties, but diapers do become a frequent topic in the series later. Infact there are such bizarre things in the later chapters such as "Diaper Ufo" and "Kung-fu Diapers" that grant the powers of a kung-fu master to the wearer.
Being a "children's manga" Andro Trio has full furigana and thus makes a good learning material for those studying Japanese language. Despite being quite legendary vintage manga, the prices aren't very high. Currently you can get one volume for about 500-1500 yen and even less for the 90s reprints, but typically whole sets of four original 80s tankōbons tend to be overpriced with prices being even over 5000 yen.
Project to translate the whole Andro Trio into finnish and english is underway, but so far there is only one chapter available. Next chapter to be released is probably "Birth of Tsukasa", a prequel to the series.
Also this post contains links to whole another story, "可愛い花びら" or "Lovely Petal", translated into english and finnish. It is much more explicit (to be honest even pornographic) than Andro Trio and was released originally in "Kimagure Lolita", an anthology of short stories by Uchiyama Aki.
The story of "Lovely Petal" also shows some of the character designs Uchiyama-sensei made for the "Super Dimension Cavalry Southern Cross" animation series, although they are completely unrelated to the story.
Esittelyssä tälläkertaa pikkutuhmaa poikainsarjakuvaa 80-luvun alusta, eli eräänlaisena vaippasankarinakin tunnetun Uchiyama Akin jokseenkin legendan maineessa oleva "vaippamanga" あんどろトリオ eli Andro Trio tai Androidi Kolmikko näin selvällä suomenkielellä. Tämä Weekly Shōnen Champion lehdessä vuosina 1981-1982 julkaistu alunperin nuorille pojille suunnattu sarjakuva on varsin omituinen tapaus.
Uchiyama-sensei itse kutsui teostaan "vaippamangaksi", se on sinällään osuvaa ottaen huomioon vaippojen määrän myöhemmissä luvuissa. Mainittakoon, että myöhemmissä luvuissa nähdään varsin erikoisenlaatuisia konsepteja kuten mm. "Vaippa Ufo", sekä "Kungfuvaipat" jotka antavat käyttäjälleen kungfumestarin voimat. Ensimmäinen luku kuitenkin keskittyy lähinnä pikkuhousuihin eli tuttavallisemmin pantsuihin. Andro Triohan siis kertoo 10-vuotiaan koulutytön Tsukasan seikkailuista mystisen "senpain", joka on jonkinlainen pantsuja virittelevä hullu tiedemies ja tämän nuoremman oppipojan kanssa.
Genreltään ja teemoiltaan kyseessä on humoristista gag-sarjakuvaa, jossa seksuaalinen huumori on pääosassa. Ikään kuin japanilaista Myrkkyä. Allekirjoittaneen mielestä kyseinen sarjakuva on ihan sopivaa lukemista nuorisolle siinä missä Myrkkykin, mutta toista mieltä oli Tokion hallitus ja Andro Trio olikin yksi ensimmäisiä sarjoja jotka päätyivät niinsanottujen "haitallisten sarjakuvien" listalle vuonna 1991. Niinpä vuoden 1993 uudelleenjulkaisusta löytyykin tuo keltainen "Seijin Comikku", eli "aikuisten sarjakuva" -merkintä, joten emme suosittele tätäkään perheen pienemmille, vaikka se periaatteessa lastensarjakuvaa onkin.
Kuitenkin, koska kyseessä on periaatteessa lastensarjakuva niin omaa se täydet furiganat ja on siksi hyvin soveltuvaa opiskelumateriaalia japanin kielen opiskelijoille eikä se ole kovin kalliskaan ottaen huomioon sen iän, etenkin jos tyytyy 90-luvun uudelleenjulkaisuihin. Tosin allekirjoittanutkin onnistui hankkimaan kovalla metsästyksellä alkuperäiset 80-luvun painokset, n. 50€ yhteishintaan.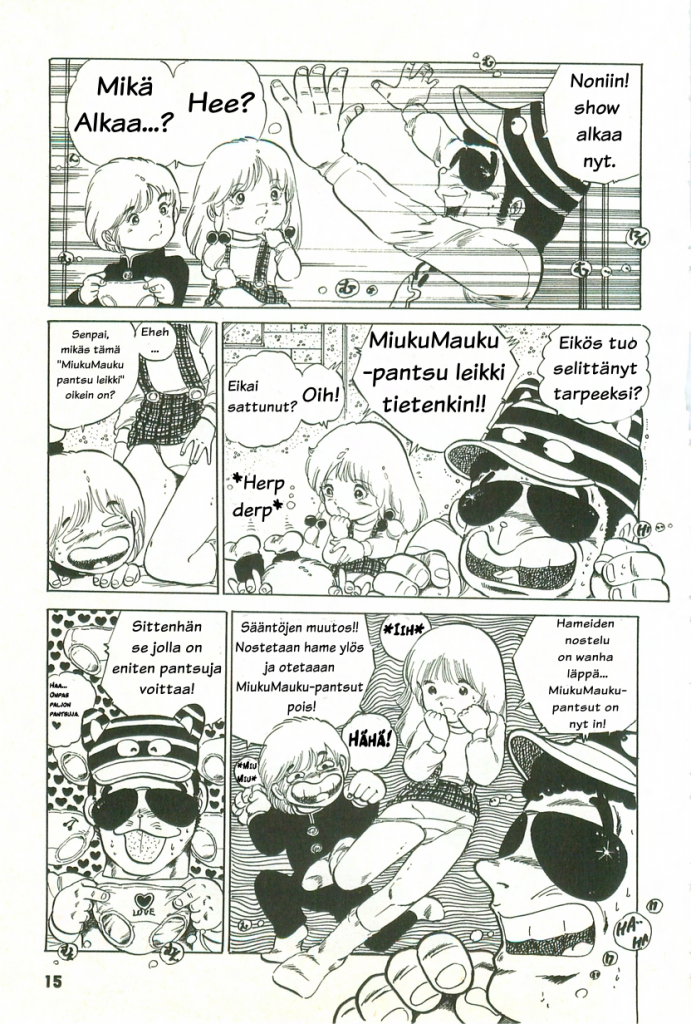 Tässä vaiheessa tarjolla on vain ensimmäinen luku, eli "Oranssi hälytys Tsukasan pikkareissa", mutta projektia on tarkoitus jatkaa ja hamaassa tulevaisuudessa olisi luvassa ainakin "Tsukasan syntymä" -prequel (jota ei ole uudelleenjulkaisuissa mukana) sekä tietenkin "Kissojen koti on Tsukasan pantsut" eli 2. luku.
Tälläkertaa kiitos skanneista kuuluu tuntemattomalle lähteelle joka on ystävällisesti skannannut kaikki 3. tankōbonia Andro Trion uudelleenjulkaisusta.
Bonuksena tarjottakoon yksi tarina suomeksi ja englanniksi käännettynä "気まぐれロリータ" eli "Oikukas Lolita" -antologiasta, jossa on julkaistu useita lyhyitä Uchiyama-sensein tarinoita. Sen verran voimme spoilata että kyseessä on huomattavasti tuhmempi teos kuin Andro Trio, jopa pornograafinen. Tässäkin tapauksessa kiitos skanneista kuuluu mysteeriselle terroristijärjestö anonyymille joka ystävällisesti kyseinen teoksen on saattanut digitaaliseen muotoon. Tätä nimittäin ei edes löytyisi allekirjoittaneen kirjahyllystä, vaikka siellä kilokaupalla Uchiyama Akia onkin.
Huomataa muuten että kuvitus tarinan kannessa ei liity itse tarinaan vaan on yllättäen Uchiyama-sensein hahmodesignejä "Super Dimension Cavalry Southern Cross" -animaatiosarjaan. Mitä maailma menettikään kun häntä ei päästetty tositoimiin… Itseasiassa Uchiyama-sensei on tehnyt tästäkin aiheesta (eli tapaamisestaan kys. animaatiosarjan tuottajan kanssa) kuvaavan sarjakuvan joka luultavasti myös nähdään vielä suomeksi ja englanniksi.