Hello all old and new friends of erotic comics!
こんにちわ! 今日のリリースはイクサー1増刊号、レモンピープルと内山亜紀のロリータアニメです! また、「亜紀ファンタジー(Tsukasa Mook)」新しいスキャンがあります。
Short summary in Finnish:
Joo elikkäs, LemonComics on jatkossa kirjoitettu pääasiassa kolmannella kotimaisella eli Lontoon kielellä. Myykää huumeita sen kanssa. Iloinen Kauppias nimittäin soitti ja teki tarjouksen josta ei voi kieltäytyä. Globalisaatio on tätä päivää, vientimarkkinoissa on tulevaisuus, Bilderburger -ryhmän jäsenkortit oli liian houkuttelevia, tai jotain vastaavaa…
Huoli pois, että LemonComics olisi jotenkin amerikkalaistumassa — muutokset eivät tule johtamaan sellaiseen suuntaan! LemonComics seisoo edelleen vahvasti fenno-japanilaisuuden ja kalevalais-shintolaisuuden kannalla.
Englantia osaamattomalle väestönosalle (kai sellaistakin on olemassa?) teemme blogipostausten yhteyteen jatkossa tällaiset tiivistelmät rakkaalla äidinkielellämme.
Filut eivät tarvitse enää passuja. Moemagic oli ja meni, mutta LemonComics kestää.
Tälläkertaa luvassa on Fight!! Iczer-One! -materiaalia,  Uchiyama Akin Lolita Anime, Tsukasa Mookin uusi tuleminen ja loppuun vielä parit Lemon Peoplet.
News from the scanning front
This maybe kind of a new beginning for LemonComics, since we have decided to use English is the main language. Staff at LemonComics got bored to write those humouristic "gonzo" style Finnish posts, even if they were fun to write for a while. This will probably seriously hurt the entertainment value for some Finnish-speaking readers, but in these days of globalism and happy merchants it's a good idea to cater to a larger demographic. After all, the main and true purpose of LemonComics is to be historical archive, and not just a source of cheap laughs.
In any case, there has been lots of things happening: Those who frequent to LemonComics' ExHentai repository have probably noticed that there are some new releases. Those bright enough can guess that this also means that the blog must be updated eventually — but let's get on with other news…
MoeMagic is dead,  but LemonComics goes on. This means there will be no passwords. Regardless, general news and anncouncements end here and we'll move on to comics.
"Iczer" -project
戦え!!イクサー1
LemonComics will now commence the Iczer-project. This is a project to preserve original releases of  Fight! Iczer-One! comics as they appeared in Lemon People, as well as scan some Iczer-related goodies. Our current progress is arguably somewhat sluggish  (流石にレモンコミックス!), but goes on steadily. Mysterious book in the picture is a special issue of Lemon People, sort of Iczer-one promotional artbook. Needless to say it contains lots of information on the Fight! Iczer-One! series.
Regarding the actual volumes of Lemon People that contain chapters Fight! Iczer-One! series.  The magazine (november issue, vol. 22) containing Chapter Two has been scanned and edited. We know, it might be bit odd to start with that instead of Chapter One, but this is due to "accident", since LemonComics scanning team tends to work in a somewhat spontanous manner.  Originally there was no Iczer-project, and the magazine in question was chosen to be scanned for other reasons — but as we went for it we decided to go for a series-project. Oh well, full volume of october issue with first part of Iczer-manga is currently already scanned and due for editing.  Expect it to hit the EX maybe this month.
レモンピープル、昭和58年11月号

Public Service announcement 

The Iczer-project will offer full magazines in all their glory! Meaning you can enjoy the other fine comics (aside Iczer-one) like maybe Ankoro Torio or Hades Project Zeorymer, depending whether diapers or mecha rocks your boat. This is no lousy deal where someone spends considerable time hunting down specific (possibly rare) magazines just to scan one manga contained in between. Remember, LemonComics always scans full magazines!

Disclaimer: All possible references in this anncouncement to real people or real things are purely coincidential.
Uchiyama Aki's Lolita Anime
Among other interesting vintage cartoon erotica, LemonComics proudly presents it's first anime release!
This is 内山亜紀のロリータアニメ (Uchiyama Aki's Lolita Anime) captured with love straight from the best source available. [citation needed] These episodes are considerably better in quality than older releases by others, and are probably about as good quality as one can get out of a laserdisc without extreme filtering and post-processing.
First Part is 内山亜紀のミルクのみ人形 (Uchiyama Aki's Milk Drinking Doll) and it feels bit like some french art-porn really, but with some Uchiyama's weirdness thrown in for a good measure. Main theme is puberty. Oh and there are dolls, mm…dem ball-joints.
Second Part is 内山亜紀のオビョーキ亜紀ちゃん (Uchiyama Aki's Sick Aki-chan) and the name is somewhat fitting in terms of content. It was somewhat more perverted than usual for it's time, featuring even futanari and tenctacles for the first time in Japanese erotic animation. This is like havinga an inside look at lolicon otaku's brain and soulscape. We don't know is it supposed to represent fantasies and thoughts of Aki-sensei himself or someone else. Regardless, it's very trippy and can be interpreted in many different ways, so we won't even try to go there…

This release also includes scans of Laserdisc covers, but please note that this doesn't come with episode three a.k.a. おもらしごっこ (Pee play), as it sadly was never released on laserdisc.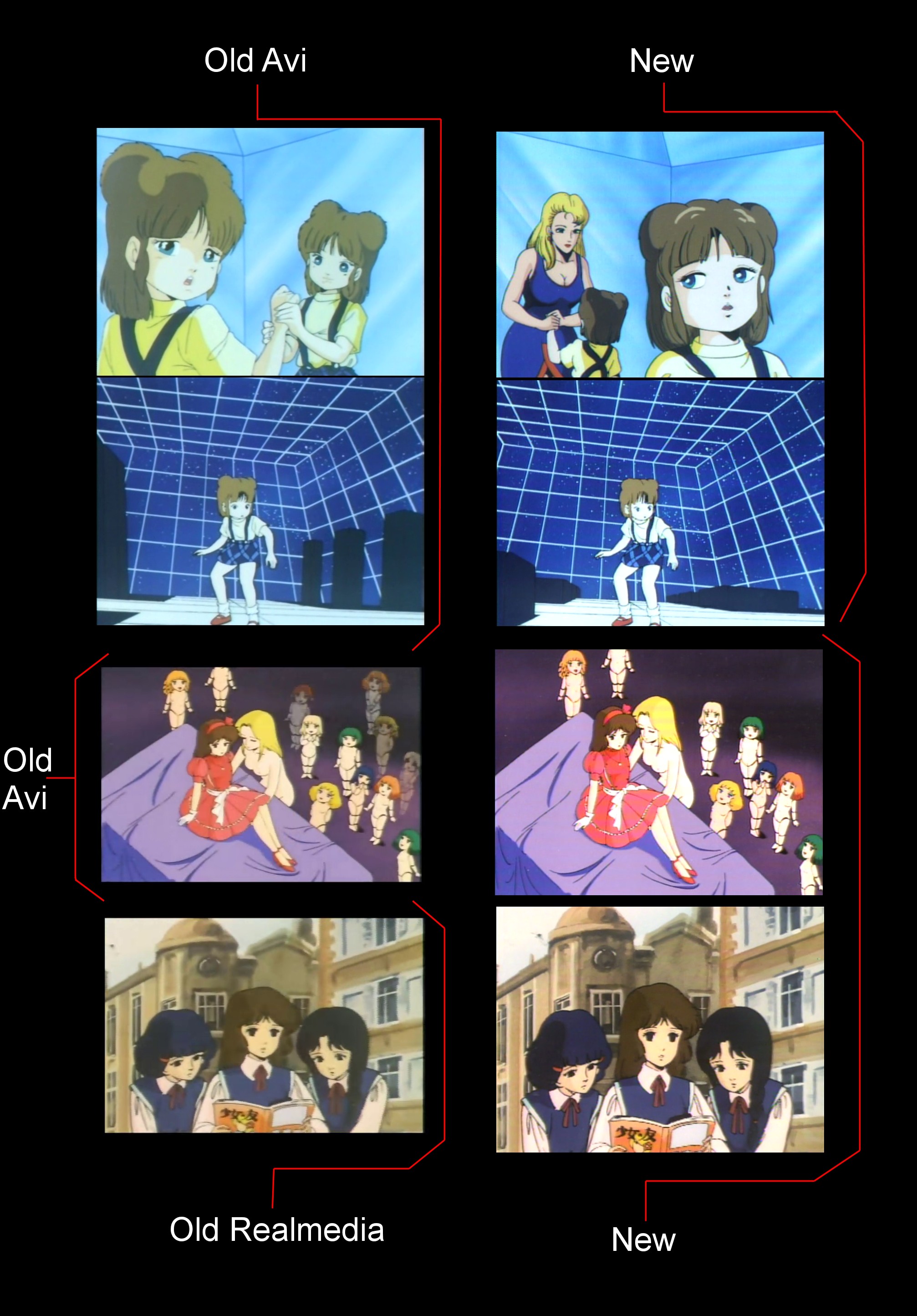 内山亜紀のロリータアニメ

まったく、レーザーディスクは最高だぜ!
Tsukasa Mook returns
Last, but not least, LemonComics has been also busy with retouching certain earlier release that was deemed (by a peer-reviewed research of experts on the field) to be "way too bad" for meaningful digital preservation. Anyway, here it is — beautiful all new hipstamatic-quality rescans of legendary Tsukasa Mook by the king of diapers. You know him and you love him –well atleast we here at LemonComics do, in case you haven't noticed.
亜紀ファンタジー
One more thing!
As a bonus release we offer Lemon People march issue from 1987, vol. 69 to be exact. These scans were kindly offered by KimiNozoGuy for editing and release, so all credit goes to him for sharing this piece of history. Check out his fine blog at aaltomies.wordpress.com!
This issue of LP is especially interesting, as it contains interview of some of the makers behind Iczer-one (OVA) and promotional info on Iczer-one Act. III (OVA) along with character sketches of Urotsukidoji, a well known erotic animation. There is also funny story of a pussy who likes pussy and many other things.
レモンピープル、昭和62年3月号
This post sadly ends here, but maybe there will be more Andro Trio scanlations next time. There is certainly a need for some "family oriented" fun among all this pornography. Stay tuned and maybe go watch some cute girls doing airsoft, since modern animation can be good too.