Terve ja heipähei! Olet saapunut jostain kumman syystä tänne internetin pimeimpään reikään, josta löytyy Lemon Comics tahi Sitruunasarjakuvat -blogi. Tässä blogissa on tarkoitus käsitellä antiikkisia kultaisen 80-luvun eroottisia japanilaisia sarjakuvia, sekä mahdollisesti myös sivuta niihin liittyvää kulttuuria. Tietenkin myös tarjolla on mukavia ja helppoja linkkejä jolla äidin pikku pornohiiret saavat kätevästi ladattua tätä digitaaliseen muotoon ahdettua kulttuurihistoriaa omille kotikoneilleen.
Näin aluksi voisimmekin tarjoilla allekirjoittaneen itsensä henkensä ja loputtoman vapaa-aikansa uhraten skanniman Uchiyama Akin teoksen, "Tsukasa Mook", joka on vuodelta 1985.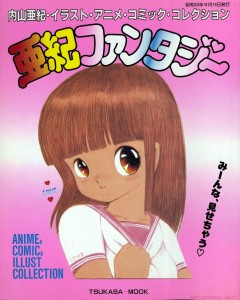 Kyseessähän on eräänlainen taidekirjaa ja tuolloin ajankohtaista informaatiota yhdistelevä lehdykkä. Sisältää mm. Uchiyama Akin haastatteluja ja tietoa koskien "Lolita Anime" -projektia, kuvia signeeraustilaisuudesta sekä tietenkin paljon Aki-sensein kaunista kuvitusta. Onpa mukana pikku sarjakuvakin, jossa seikkailee varsin tuhmia kissoja…
In English for any Non-Finnish readers:
This is the first post on this fine new blog. This blog will be covering ancient 80s japanese erotic comics and possibly the culture associated with them. There will be of course download links where you can easily get these culturally important pieces of art in digital form.
Published in september, 1985, Uchiyama Aki's "Tsukasa Mook"(tl.note™: "mook" means magazine-book), basically an artbook with lots of beautiful colored illustrations and information about the artist and his work. There's also photos of the artist and his fans. This "mook" also has information on Uchiyama Aki's legendary Lolita Anime.
Note that this is not manga, it's more like art and information book on Uchiyama Aki.